Sailboat crashes into Bridge of Lions | News
ST. AUGUSTINE, Fla. — A scary moment for a husband and wife on the water this morning when the force of the wind and waves severed the line where they moored in St. Augustine.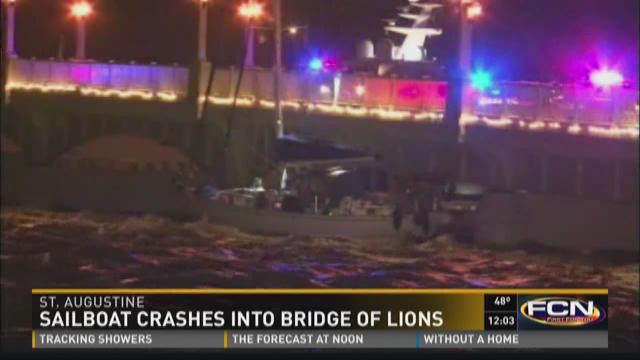 Carl McHenry and his wife, who were visiting from Philadelphia, were on the boat but were not injured, according to the St. Augustine Police Department.
About 4:15 a.m. the sailboat broke loose from its mooring and proceeded to get stuck underneath the north side of the bridge, police said.
The bridge was closed down to road and water traffic just before 5:30 a.m., but reopened less than 30 minutes later.
Samuel Adukiewicz, the harbormaster at St. Augustine Marina, told First Coast News the couple had been staying in the area for about a month on the boat called "The Morningstar". There is more than $2,000 worth of damages to the boat, he said.
The McHenrys say it will take more than a week to fix their boat, certainly putting a strain on their "vacation", but they were just glad it wasn't worse.
"Under the circumstances they were very calm," said Adukiewics. "Usually people under these situations are running around the deck, a little panicky, but they were very calm, confident in what they were doing, we got them here to the dock, I was able to talk with them, now they are taking a break, a much-needed break."
The police department is filing a report for the Florida Wildlife Commission.
According to Adukiewics, there is no damage to the bridge and no charges will be filed.
He says the dangerous conditions are to blame but it's important to be prepared. He says their line was too thin, even though they had checked it throughout the night and thought it seemed okay. He recommends getting a thicker line for mooring and investing in chafe gear, which he says they did not appear to have on their line. You can receive chafe gear for free at the St. Augustine Marina.