St. Augustine Beach re-nourishment could happen one year earlier | News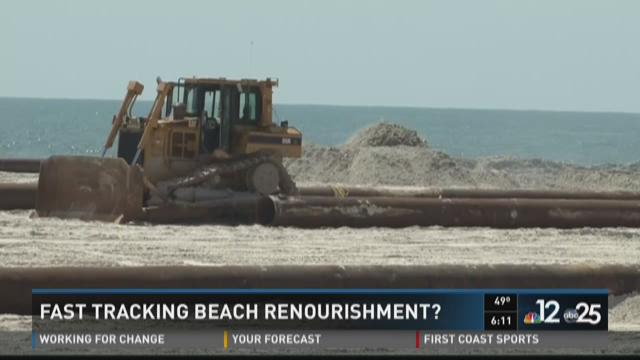 ST. AUGUSTINE BEACH, Fla. — The next beach re-nourishment project at St. Augustine Beach may come sooner than scheduled, according to the St. Johns County government offices and the Army Corps of Engineers.
The next St. Augustine Beach re-nourishment project is scheduled for 2017. That could be bumped up to 2016.
Jon Waltz just moved to the area last year. Tuesday he looked out over St. Augustine Beach on a blustery day.
He believes a big beautiful beach is necessary for the local economy.
"I think so," Waltz said. "It's attracted us and we tell our friends and family about it and utilize is and enjoy its beauty."
St. Augustine Beach has eroded since 2012, the last time the Army Corp of Engineers pumped sand from the ocean floor and spread it onto St. Augustine Beach. The project extended the beach out to almost the end of the pier.
"The reason for expediting the project is fund availability," St. Johns County Government spokesman Michael Ryan said. "We want to use those funds as soon as they are available and the Army Corps of Engineers believes they may be available a year sooner which is great for us."
Some people argue that the beach re-nourishment projects are a waste of money.
Talking about money, according to the Army Corps of Engineers, this upcoming project could cost $10 - $20 million. St. Johns County expect it's portion would be roughly $1.5 million.
"That would be TDC (Tourism Development Council) funding that comes primarily from tourists and bed tax," Ryan noted. "It will also be split with state funding, but 80% will come from the federal government."
On a day when 30 – 40 mile per hour wind gusts whipped up the waves which pounded the sand at St. Augustine Beach, it's easy to see why the sand washes away.
However, Army Corps of Engineers spokesperson Amanda Ellison said the erosion rate is consistent with rates in years past.
Eillson said the Army Corps of Engineers is waiting to hear if Congress will fund the beach re-nourishment project.