Payphones still in business on the First Coast | News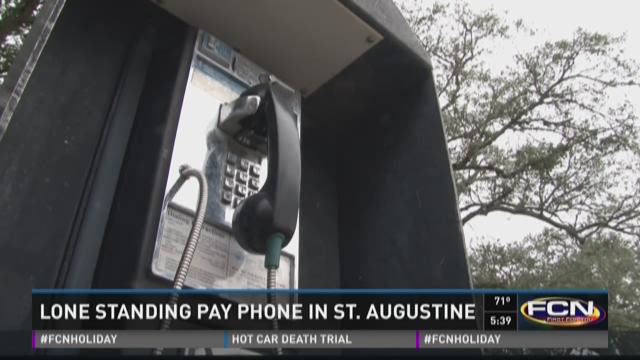 ST. AUGUSTINE, Fla. -- Payphones are now rarer sights than they used to be, but they're still in business on the First Coast.
On the corner of the main city plaza in St. Augustine, next to historic plaques and monuments, there sits a humble pay phone.
Aaron Jockers has used the phone. "I think it's wonderful you have a payphone next to the nation's oldest park. Because it's a relic and antique itself!"
And it still works.
First Coast News did an experiment. Our crew set up a camera on the balcony of building across the street and called the phone.
The phone rang, but many people walked right by.
Some of them glanced over, but none of them picked it up.
Except for one man -- Jeff Charette.
Said Charette, "I heard the phone ring and I thought I had to answer it."
He's one of the many people who live in St. Augustine, but who don't even realize payphones are still available.
Justin Keane is the chief operating officer of Pacific Telemanagement Services, the company which manages this phone.
He said it is largest private payphone company in the country.
'We're offering about 25,000 payphones throughout the country so far," said Keane. "People are still dropping change and making calls. There are still a lot of toll free calls placed via 800 numbers. Some collect calling goes on. We have quite a few phones in airports still."
"We've acquired hundreds of thousands of phones throughout the years and that base has gone down to what it is now," he added.
"It's still a profitable business for us. But it's not something a lot of people are rushing to get in to."
For now, the phone in the plaza in St. Augustine continues to serve, although often unnoticed.