St. Augustine revokes 7-Eleven's building permit | News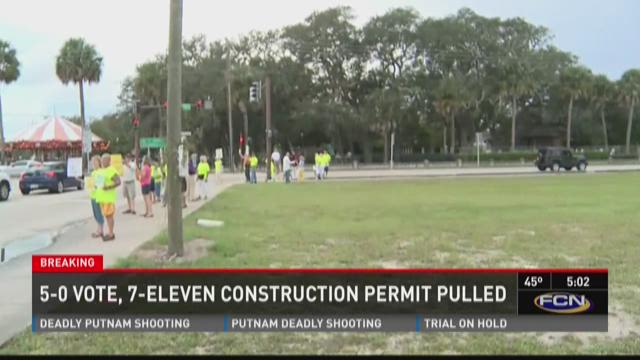 ST. AUGUSTINE, Fla. -- A controversial plan to allow a 7-Eleven to be built at the entrance of historic downtown St. Augustine took a twist Thursday with residents fighting the plan and winning a battle at city hall.
The city commission reversed course, siding with residents who appealed a decision made last fall approving a 12 gas pump store to be built at the corner of San Marco Avenue and May Road.
The commission's decision to yank 7-Eleven's construction permit following six hours of testimony was unanimous.
Residents cited concerns about more traffic and the city's landscape being scarred. They also argued the design standards for the building were being compromised.
"I think our commission really listened to the problem," resident Elisa Nevel said after the marathon meeting.
James Whitehouse, who represents 7-Eleven, said the convenience store chain followed city guidelines in the both the application and permitting phase.
"This is a case about property rights and the law," said Whitehouse, who called the city's former planning director and a traffic expert to testify before commissioners.
The decision to revoke the construction permit can and likely will be appealed.
Mayor Nancy Shaver said what happened was commissioners listening to both sides.
"It boiled down to protecting the city," said Shaver, who was elected in November and was not on the commission when the permit was first OK'd.