Busiest year for St. Augustine during the holidays | News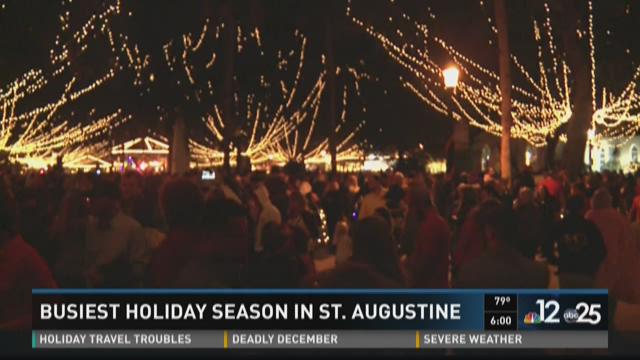 ST. AUGUSTINE, Fla. -- Locals in St. Augustine are saying this year's crowds for the Nights of Lights are the biggest they have ever seen for the holidays.
During the holiday season, visitors usually pack into St. Augustine even during the day. But the nights are proving to be busier than normal.
"It's been crazy," said Amy Stevens, a waitress at the Prince of Wales restaurant in downtown St. Augustine.
Stevens says business has been double what it usually is for the holidays. "I'm from here and I've seen a serious increase in the amount of business in the last ten years," she said.
At night, the Holly Jolly Trolleys and the Christmas Trains are full.
Dave Chatterton, general manager of Old Town Trolley Tours, said, "This year has definitely been busier than previous years."
Chatterton said business is up 20-25 percent over last year for the trolley tour company. To take the 30-minute ride, in which you sing and see the Nights of Lights around downtown St. Augustine, the wait time could take hours in line.
"We've had waits as long as two hours," Chatterton said.
So he has brought in entertainment -- such as bands and a choir -- for the people waiting in line.
"National Geographic really put St. Augustine's lights on the map by ranking it one of the top ten light displays in the world," Chatterton noted. "So everybody wants to come out and see the lights!"
Visitors like Hung Huynh of Jupiter can't believe the crowds at night.
"I've been here a few times and I've never seen it this busy," he said. "The waits were super long in all the restaurants, the bars were full. The streets were really crowded."
No noise complaints have been filed with the St. Augustine Police Department, according to spokesperson Mark Samson. However, Samson said there have been complaints about parking.
During the afternoon Monday, there was a line out onto the street, waiting to get into the parking garage. At night, there are many more people, so the city has opened up the Francis Field next door to park hundreds more cars.
Yet no matter whether it's day or night, people are willing to deal with the waits and the crowds in order to see St. Augustine.
"It's a beautiful town this time of year," Stevens said, "and with the lights and Christmas, people like coming for that."