Scaling up: Firefighters get training handling reptiles | News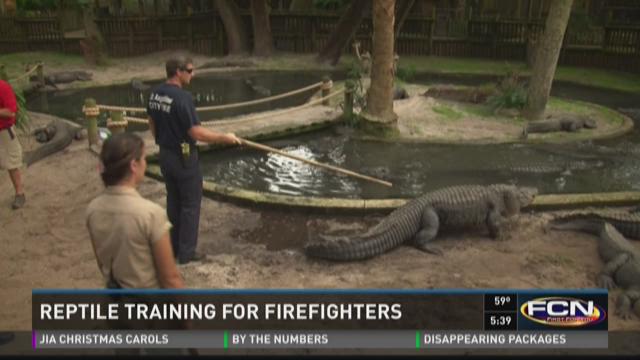 ST. AUGUSTINE, Fla. -- As more people have exotic pets and more people move to Florida and encounter wild animals, firefighters are getting more interesting calls for help.
The St. Augustine Fire Department is choosing to trains its staff so they will know how to better handle animal calls, especially when they are the first on the scene.
This week, at the St. Augustine Alligator Farm, firefighters are training with alligators and snakes because they never know what they'll find on the job.
The training course gets firefighters up-close and personal with venomous and non-venomous snakes and alligators.
"I think they get more of their fair share of calls for big creepy crawlies or scary things," said Jim Darlington, who works at the Alligator Farm and leads the training course.
Firefighter Chris Pacetti agreed, saying, "I think people would be surprised at all the things we respond to."
Pacetti mentioned house fires or even car accidents with exotic pets inside. Sometimes calls come in about native animals as well. In 2009, a very large rattlesnake was found in a neighborhood off State Road 16.
"Animals end up in houses, out-building, patios," Darlington added.
In the training course, firefighters come within feet of venomous snakes and they go right into the alligator pit. The first responders learn how to approach the animals and how to handle them with poles, rakes, sticks, whatever is available at the scene.
Pacetti said this hands-on training with the dangerous creatures help firefighters know what to expect when dealing with these animals.
"I was surprised to see how heavy some of those large body snakes are when dealing with venomous snakes," he said after lifting a snake with a snake stick.
These brave people -- who run into burning buildings for a living -- have a variety of responses to the reptile training. Some of them immediately walked up to participate in handling a snake. But others are "a little unsure about it," Darlington said. "Some people get up and scoot their seat five feet back."
"This training is not designed for us to become nuisance trappers and to call 911 because you see a venomous snake," Pacetti said. "But it is for us to help mitigate accidents where people may be hurt or in trouble around them."