Hotel boom happening in St. Johns County | News
ST. JOHNS COUNTY, Fla. — A hotel boom is taking place in St. Johns County.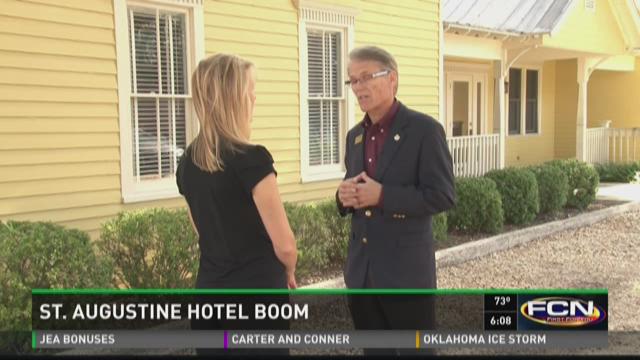 Hundreds of new hotel rooms are expected to be added to the market in the next three years, according to the St. Augstine, Ponte Vedra and The Beaches Visitors and Convention Bureau.
All over St. Johns County, new hotels are under construction or slated for construction. In addition, existing hotels are getting renovated or rebuilt.
Farid Ashdji has built several hotels in the St. Augustine area since 1988. He is now working on another one in Vilano Beach. He is also upgrading the rooms at his Magnuson Hotel on U.S. 1 near downtown.
"The last few years, we realize there is a strong demand for high-end hotels in our county and especially in St. Augustine," Ashdji said.
Richard Goldman with the St. Augustine, Ponte Vedra and The Beaches Visitors and Convention Bureau said his staff has talked with developers and hoteliers. The bureau has crunched the numbers and it estimates 800 new hotel rooms will come online in the next three years. It's about a 13 percent increase.
Goldman said hotel occupancy rates are increasing and he predicts the market can sustain the added rooms.
"In the last seven years, there hasn't been much growth in the number of rooms. Many of the renovations have replaced older properties," Goldman added. "Certainly anyone who has tried to stay on a weekend in the downtown historic district knows there is room for more hotel rooms."
How will adding more hotel rooms impact prices for a night's stay?
"We think it will have relatively minimal impact on prices," Goldman explained. "Our average daily rate should increase. But remember that's a calculation. What everybody pays is what they want to pay."
He said more rooms will provide more variety in pricing
Tourism is the county's number one industry. An estimated 5.3 million visitors came to St. Augustine and St. Johns County in 2014. Ashdji expects more people will come if they can find the high-end hotels they're expecting and looking for.
The hospitality industry employs 18,000 people in St. Johns County. With more hotel rooms coming soon, that number is expected to increase.