'Unauthorized' security company drill causes fort evacuation | News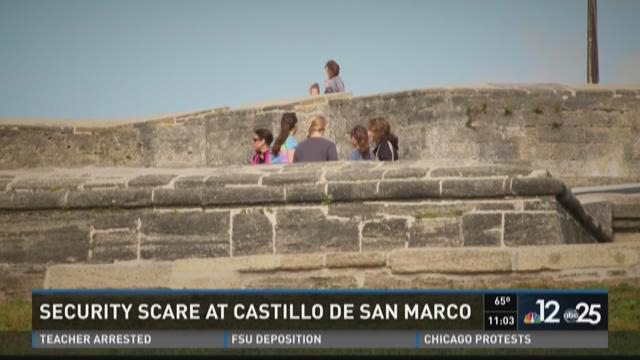 ST. AUGUSTINE, Fla. — A security company doing an exercise without permission caused the evacuation of The Castillo de San Marcos in St. Augustine, the Jacksonville FBI office has confirmed to First Coast News.
According to the National Park Service, the fort was closed about 12:30 p.m. after visitors spotted three people who appeared suspicious to them.
The St. Augustine Police department tells First Coast News that witnesses reported that subjects entered the fort and possibly left backpacks behind.
Park service officials later made contact with the subjects who had the backpacks in their possession. It turns out a group of eight men from a Deland-based company called CASS Global Security had been doing a training exercise.
First Coast News spoke with a representative for CASS, which blamed Wednesday's hysteria on a "miscommunication."
"We have maintained excellent relationships with law enforcement and what happened today was a miscommunication. This has been an ongoing relationship for a number of years. The response by law enforcement today was very professional. We want to apologize to all of the residents in St. Augustine. The issues that were failed today has been rectified for the future."
"Nobody was happy with the outcome of today and obviously we've had some after action reviews, but the point is, the system does in fact," said Shawn Engbrecht with CASS.
Police say such exercises are routine, but they usually let police know they are doing the exercise. Officers caught up with the men on St. George Street
Law enforcement determined it was not a threat and re-opened the fort just before 1:30 p.m. The FBI issued the following statement:
The FBI Jacksonville Division provided assistance as needed to our law enforcement partners in St. Augustine today. We have been advised that it was determined that a security company did not coordinate a training exercise with law enforcement officials, and the situation was quickly resolved.
This is an example of remaining vigilant about what is happening around you. We encourage the public to be aware of their surroundings at all times, and if you see something suspicious, say something to law enforcement.
A St. Augustine Police Department spokesperson provided the following statement on the incident:
The St. Augustine Police Department received a call from a citizen this afternoon who reported what they believed to be suspicious activity near the Fort, including three males with backpacks that, at times, were reportedly left unattended.
The bomb squad responded and an evacuation of the facility took place.
During that sweep, several employees of Flash Point International, a private security company from Deland, were identified. It was quickly determined that these individuals were conducting a training exercise and had not offered local police a courtesy notification. These types of exercises are not uncommon, but most companies do coordinate with local police ahead of time.
It has been determined that there was no threat to our community.
The SAPD is reviewing the response to this incident as part of its own training, and has determined that the response was successful. We are thankful to our law enforcement partners including the National Park Service, St. Johns County Sheriff's Office, and the FBI for their assistance.