Urban legend? Mystery light bulb in St. Augustine's Nights of Lights | News
Title (Max 100 Characters)
Urban legend? Mystery light bulb in St. Augustine's Nights of Lights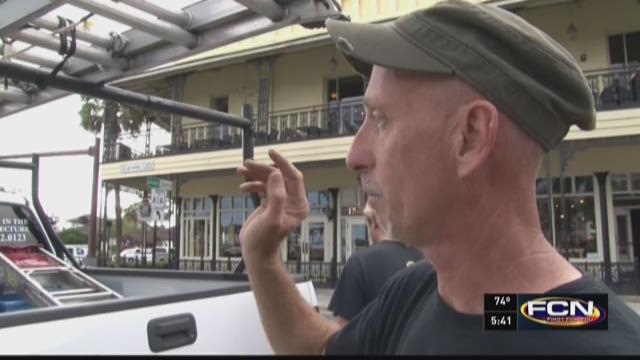 ST. AUGUSTINE, Fla. -- Did you know there is a mystery light bulb in St. Augustine's Nights of Lights display?
Millions of clear lights are put up all around St. Augustine for the Nights of Lights each year, but every once in a while, you will see one of a different color.
Why?
That's a question for Chris Fitts. He and his company, Angels in the Architecture, have put up the millions of lights for the Nights of Lights for 22 years.
And nearly every year , there's a different colored bulb among the millions of clear ones.
It's become part of the city's lore.
Fitts explained that one time he was checking the light bulbs in the city, when he heard a tour train pass by. "A tour train stopped and the guide told the story of how the 'Light Guy' puts the light in the trees for his daughter to find."
But that's just a twisted tale.
"That is a myth," Fitts said.
"No, we're not putting it (the color bulb) up, and we have no clue who's been putting it up," Fitts laughed.
About 18 years ago, Fitts started noticing the peculiar bulb when he did his nightly drives through the city to check the lights.
He was not happy. "At first we thought, 'Someone's messing with us!'"
Fitts took the color bulbs down, and tossed them into his truck.
But there was more than just one bulb. Sometimes, even now, there are three bulbs a week. "By the end of the season the side panel in my truck is overflowing with colored light bulbs," he said.
And now? "Now I laugh about it," he grinned.
The obvious orbs can be any color: blue, red, orange.
Sometimes it's low. "I have found this light bulb at the bottom of a palm tree."
Sometimes it's really up there. "Once I found a blue light bulb 40 feet in the air, at the top of a palm tree! You'd think that after all this time, someone would see someone with an extension ladder," Fitts laughed.
Then he turned around and showed off his shirt, "But then again, maybe he's got one of my shirts. I don't know."
Fitts admits, he doesn't really want to know who the Light Bulb Bandit is anymore. "I enjoy the mystery myself. I look forward to looking for [the bulb]!"
And he thinks the mystery sparks even more intrigue in the light display, which has garnered international accolades.
"It's grown so much," he said. "From our little small-town Christmas lighting to a worldwide event. And now to myths and legends and stories! It's part of the fun!"
If you happen to see one of these different bulbs, let Jessica Clark or First Coast News know about it. Twitter: @JessicaFCN or email: news@firstcoastnews.com
The Nights of Lights will start on Saturday, Nov. 21 and runs through January.