St. Augustine intersection creates 'worst traffic jam in city' | News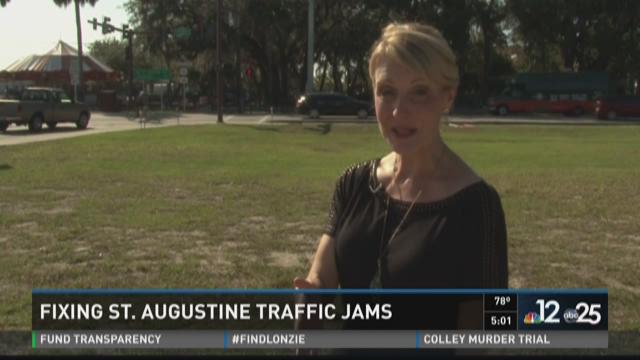 ST. AUGUSTINE, Fla. -- One intersection that sits near the top of priority fix-it list often has traffic jams that stretch for a mile.
It's the intersection of May Street, San Marco Avenue and San Carlos.
The Florida Department of Transportation wants to improve traffic flow there, and it has the money to do the project.
Still, getting the neighbors and the city to agree on what needs to happen is not easy.
Jeannette Booth is not wild about FDOT's latest option.
Booth and her husband, Bob, live in the historic Nelmar Terrace neighborhood, one block from the intersection. She said the latest option, called Alternative 5, creates an intersection that is too big for the area.
Booth also said it has several stop lights that will result in "cut-through" traffic into her neighborhood. Pointing to a proposed plan, she asked, "Who is going to go through all of this when they can just come through our neighborhood?"
The city was glad to hear FDOT wanted to improve the intersection. Said City Manager John Regan, "It is the worst traffic jam in the city."
Traffic can back up more than a mile at the light, coming in from the Vilano Beach area.
FDOT has come up with five options for the fix, but FDOT engineer James Knight said there has been no consensus from the residents.
The DOT's latest option – Alternative 5 – is an enhanced roundabout with lights. However, nearby residents are concerned with its size and say it doesn't have safe routes for bikes and pedestrians.
Bob Booth asked, "Where are our access areas or bike lanes or even pedestrian lanes to get across this traffic? And when is all this traffic in different directions going to be stopped?"
So it's back to the drawing board for FDOT.
There is some pressure for the city to give FDOT its final recommendation because the department has money for the project starting in the next fiscal year. Knight said the DOT aims to conduct the intersection project when it does an already planned drainage project.
"If this gets pushed too far out, DOT has the potential of saying, 'We're going to do just our drainage project because we don't have enough community consensus to move forward with the intersection project.' We don't want that to happen," City Commissioner Todd Neville said.
This project marks another growing pain for St. Augustine. Regan noted, "We're trying to solve 21st century problems with a 16th century city. It's tricky."
As for the Booths, they hope that whatever the solution is, their neighborhood won't have too much cut-through traffic and will remain they place they love.
Many neighbors and even those who work for the city government have complimented the DOT for listening to the concerns and creating different options.
There is a public hearing Monday night about the intersection at St. Augustine's City Hall. The issue will also come up at a St. Johns County meeting Tuesday.