Should developers, not taxpayers, pay for new schools? | News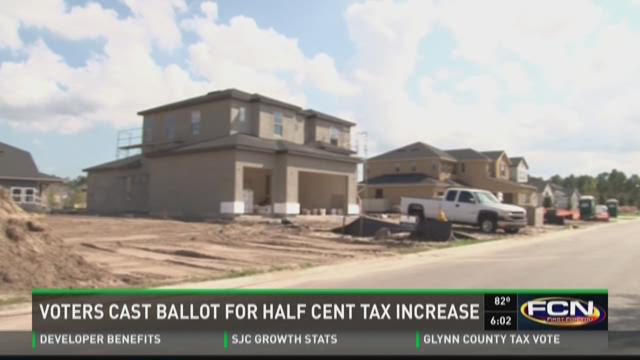 ST. AUGUSTINE, Fla. -- The one and only item on the ballot in St. Johns County Tuesday dealt with a half-cent sales tax increase for schools.
The school district says it needs money to keep up with the swelling student population.
But those who oppose the tax it should be up to the developers responsible for the growth to support the schools.
As more homes go up in St. Johns County, more families with children are moving in.
Verarose Muir moved to Nocatee recently from Maryland with her teenage daughter.
"I wanted warmer weather and good schools," said Muir, "and this is why I'm in St. Johns County."
She voted at the Francis in the Field Episcopal Church near Nocatee Tuesday.
St. Johns County – with its highly ranked school district -- finds itself in an interesting position. More neighborhoods mean more children, but the school district is running out of space to put them and it is dealing with budget cuts at the state level.
Kenny Gustavson voted "yes" to raise the sales tax. "I have three new boys in Valley Ridge Academy and for a brand new school, the kids are already in portables."
The district says a half-cent sales tax over ten years will build the needed schools and classrooms and it will move students out of portables.
But many residents against the tax, like Tom Piedlow, say developers who are building the neighborhoods should be accountable for impact fees -- which are imposed on developers to help offset the cost of new development -- and taxes to support school construction and infrastructure.
"We just don't need to continue to raise taxes to solve problems that they should probably take away from something else to resolve," Piedlow said.
Muir disagrees and voted for the tax.
"If we have the developers pay for it, then we'll be paying more for our houses," Muir said. "So do we want to hit the person who's moving here? Or do we want to hit the people who are having more children and so on?"
St. Johns County's Supervisor of Elections Vicky Oakes told First Coast News she was expecting a 25–30 percent voter turnout, but by 6 p.m., the total turnout was 20 percent. That included Election Day votes, early voting, and mail-in ballots.
"It's an election that affects everyone in the entire county," Oakes said. "Plus, it's about or communities and our schools."
So the voter will decide the issue, and many of those voters went to polling places which sit right next future new neighborhoods.