St. Augustine Beach entrepreneur pedals for profit | News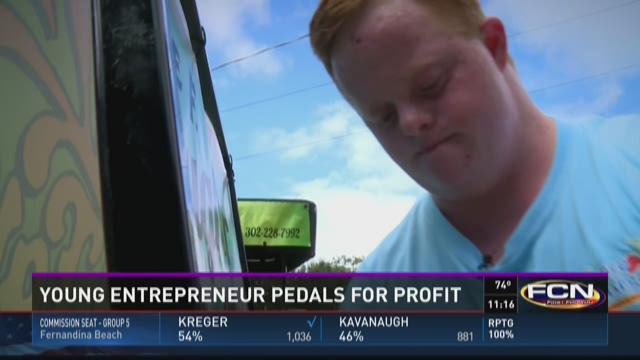 ST. AUGUSTINE BEACH, Fla. — One young entrepreneur out of Saint Augustine Beach says he never meets a stranger while out pedaling.
He charges a one-time fee for every 5-by-5-foot banner and he's driving his business forward with every mile.
Sometimes it doesn't take a lot of words to get a message across. And that can be a good thing because in Breck Slaughter's case, he doesn't need them.
"I love my business. I protect it. These signs are the most important to my whole family," said Slaughter.
He doesn't let his struggles get in the way.
"I am the CEO, the chairman. Yes, I am," said Slaughter. "I have the power to do it because the authority tells."
And he's tough on himself. At 26-years-old, this young entrepreneur works six days a week. He says he has two offices: one is his room and the other is on three wheels.
He keeps his tricycle in his garage, and that's where Breck's Billboards Business was born. It is also the same place he keeps these signs for each and every client.
Slaughter has more than 20 clients. Attached with velcro, the signs advertise Turning Point, a local church, a law firm and Coldwell Bankers.
"Breck's Beach Billboards — it's pretty amazing," said Slaughter.
His business is four-years-old and he's gaining a lot of speed. People in the streets even call him the Mayor of St. Augustine.
"I'm well-known. Yes, I am," said Slaughter.
He's not elected but definitely in charge.
Nothing holds Breck back. At five miles an hour ,sometimes even when it hits 95 degrees, he's out and pedaling for a profit.
And sneakers? They're a no-go. He's had the same sandals for years, but the ride until now wasn't without speed bumps.
He had trouble landing a steady job.
Jarrod Beyter is one of the Manger at Mango's in St. Augustine Beach.
"We just wanted to take a chance with him and besides a business transaction he's our friend," said Beyter.
Mango's was one of Breck's first customers.
"It works. It really does," said Beyter.
Just ask the other 18 customers he's got now.
While Breck is gaining speed in the advertisement world, he has also had an impact with the St. Augustine Beach Police Department, including Officer Martinez. Slaughter calls him his "bodyguard."
"Every chance I have, I stop and talk with him," said Martinez. "Everyone in the neighborhood and the businesses look out for him."
As does his mom. She checks on her son at least twice a day.
"Kids with special needs a lot of times you are told that by a certain age like 18 or so, you are told wherever they are that is where they are going to remain and I can whole wholeheartedly say that's not the case because he's made the greatest strides here in the last four years," she said.
Four years and just like any successful entrepreneur does: he's asking us to help spread the world about his business.
First Coast News told Breck that we can do that for him.
"This business makes me happy," said Slaughter. "I have a lot of years in this."
Story Photographer and editor: Jeff Renfroe