Elderly couple escapes massive house fire in St. Augustine | News
ST. JOHNS COUNTY, Fla. — Firefighters were called to battle a blaze that erupted at a two-story house in the Wildwood Creek neighborhood St. Augustine Tuesday morning.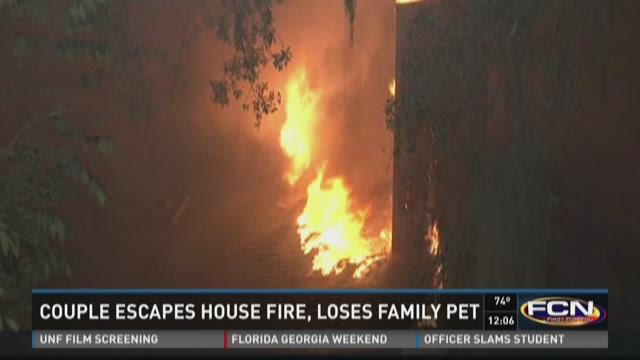 Eight to 10 crews consisting of more than 20 firefighters responded to the home located in the 3700 block of Arrowhead Drive near Winterhawk Drive about 3:15 a.m., according to Captain Andrew O'Quinn with St. Johns County Fire Rescue.
O'Quinn told First Coast News the couple inside was able to make it of the house uninjured despite flames engulfing a large portion of the home.
Almost two hours later, the fire was under control at 4:50 a.m., O'Quinn said. However, firefighters stayed to clean up past 7 a.m. and monitor several hot spots.
Vincent DiMarie, 86, and his wife Eleanor, 77, have lived in the home for more than 20 years, the family of the couple told First Coast News.
Their grandson says his grandmother heard the smoke alarm go off, opened the bedroom door and saw smoke. She had her cell phone with her so she then called 911.
The family says they think the fire started near the garage.
Firefighters say the cause of the fire is still unknown and the State Fire Marshal and SJCFR will be investigating.
Stay with First Coast News for updates in this developing story.