St. Johns County Commission rejects proposed development | News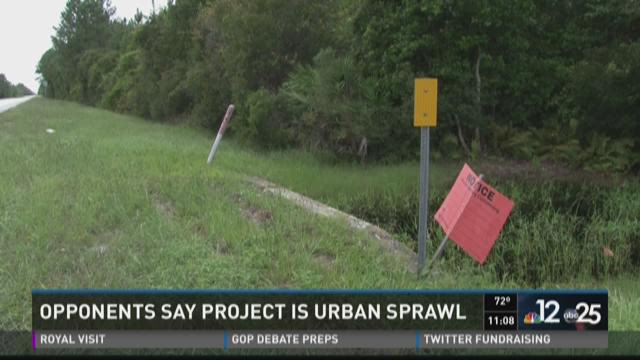 ST. JOHNS COUNTY, Fla. -- The St. Johns County Commission voted Tuesday to stop a massive proposed development in its tracks.
The vote was 3-2 to deny the planned unit development (PUD) for the King's Grant project.
Critics call it "quintessential urban sprawl."
The King's Grant development was proposed for the northwest corner of Interstate 95 and State Road 206 in southern St. Johns County.
The project would have included nearly 999 homes, plus commercial space, a hospital, an assisted living facility, and a hotel.
The 772-acre project was proposed in a rural, wooded area.
The developer said the project, a $350 million private capital investment, would bring 1,200 jobs and add $20 million in impact fees.
Local governments collect impact fees from developers to offset the costs of new infrastructure, such as roads or storm water systems, imposed by new developments.
Commissioners heard a presentation and input from residents about the project. Many people filled the commission room to speak against the project. The commission spent more than four hours mulling the issue Tuesday.
Jane West, who represents the South Anastasia Community Association and the Florida Wildlife Federation, both of which oppose the King's Grant project, dismissed the project as urban sprawl.
"You have no adjacent residential communities in the area," West said. "You don't have the existing infrastructure that supports this kind of development. It is 7.2 miles from any sort of fire station."
The developer had offered to pay for the construction of a fire station, asking to be reimbursed for its expense from a pool of impact fees.
The St. Johns County Planning and Zoning Agency voted against the project, citing urban sprawl and the lack of a public facilities, and the timing of the development.
Other people at the meeting, including Commissioner Rachael Bennett, weren't so quick to dismiss the King's Grant project.
Still, many residents in southern St. Johns County were concerned how it would impact the environment and agriculture in the area.
The Matanzas Riverkeeper spoke out against the project, saying it would harm the river and other nearby bodies of water.