Datil pepper tea gives new meaning to "hot tea" | News
ST. AUGUSTINE, Fla. — Saturday afternoon there was a tea party in St. Augustine. The St. Augustine Pilot Club hosted the event, which drew a crowd of ladies with big hats to the St. Johns County Agricultural Center.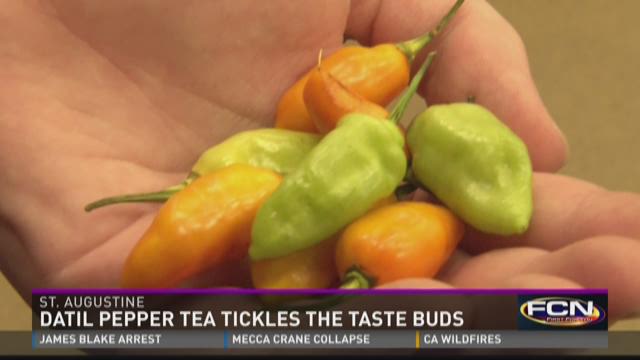 Many wanted to taste the new datil pepper tea.
"It is new. I don't think anyone has heard of it before," Leslie Coleman said. She is the President of the St. Augustine Pilot Club. She also concocted the datil pepper tea for this special St. Augustine 450th anniversary tea party.
She threw in different herbs such as "some peppermint, some rose hips, some hibiscus. We mixed in different things together until we picked one we liked."
The datil pepper is a local plant.
It's believed the Menorcans brought the pepper plant to St. Augustine when they escaped from the indigo plantations in New Smyrna in the 1700s. Although some disagree about the pepper's origin, no one disagrees that the datil pepper is very hot. It's similar in strength to the habenero.
Menorcans use the pepper in different products such as hot sauces and chowders.
However, just because you're Menocan, it doesn't mean you're hot about the pepper.
At 102 years old, Wilma Delaporte is said to be the oldest living Menorcan in St. Augustine. What does she think about the datil pepper?
She simply told First Coast News: "I don't like it." It made all the people around her at the tea party laugh.
And while no one has heard of datil pepper tea until now, many seemed to like the spicy drink.