Sheriff: Autistic man targeted in St. Augustine deadly shooting | News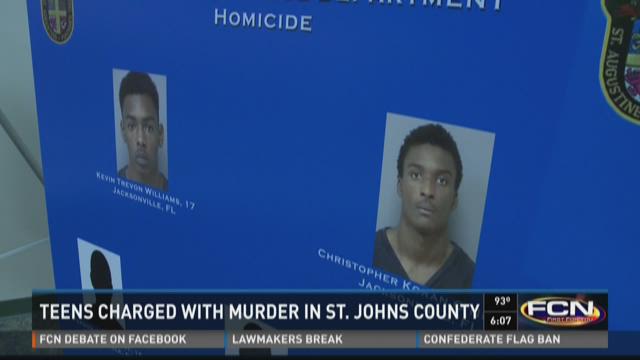 ST. AUGUSTINE, Fla. — An autistic man fatally shot Tuesday at a St. Augustine condominium complex was targeted, according to the St. Johns County Sheriff's Office.
Carl Starke, 36, of St. Augustine, was at Wal-Mart Tuesday when the suspects spotted him in the parking lot, decided he was a "soft" target and followed him home with the intention of stealing his car, said St. Johns County Sheriff David Shoar at a news conference Friday afternoon.
The sheriff said the suspects did not steal his car, but instead "murdered Carl in cold blood in our county."
"Our beloved Carl was taken from us too soon," Carly Starke, the victim's sister, said. "We want everyone to know that he never had an enemy and had the purest heart."
Two suspects -- identified as Christopher O'Neal, 16, and Kevin Williams, 17 -- have been arrested on murder charges and a person of interest was hospitalized at last check following the deadly shooting, police said.
Police said Friday there were two additional persons of interest, in Starke's murder. The two suspects and three persons of interest, ranging in ages 15 to 17, drove down from Jacksonville in a stolen vehicle, according to Shoar.
Starke was found dead of a gunshot wound at the Vista Cove Condominiums Tuesday night, according to police.
A manhunt for his suspected killers unfolded in St. Augustine Wednesday afternoon, triggering a lockdown of at least six nearby schools, police said. It started when officers attempted to stop a vehicle matching information from Starke's shooting, and three people inside the car took off.
One of the individuals was injured in a crash while trying to run from police, authorities said. Two others were later arrested in the woods near Aiken Street.
Murray Middle School, Webster Elementary, Sebastian Middle, John A. Crookshank Elementary, St. Augustine High and St. Johns Technical High went on lockdown at about 1 p.m., according to Christina Langston, spokesperson for St. Johns County Schools.
Shoar said he urges anyone who knows the suspect to come forward and let law enforcement know about any other crimes they may have committed.
Stay with First Coast News for more details on this developing story.