Sand building up in Matanzas Inlet | News
ST. JOHNS COUNTY, Fla. — Sand is slowly filling in portions of the Matanzas Inlet.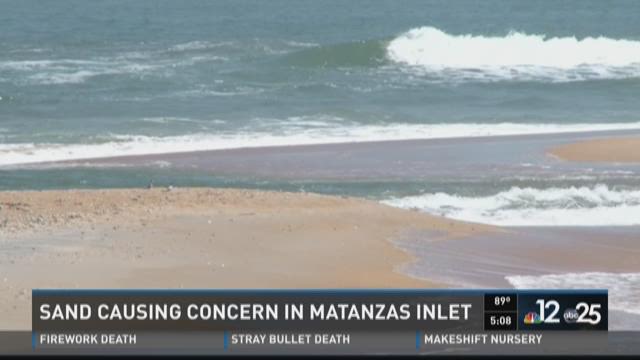 That's according to water officials and people who live or play around the inlet.
So much sand has built up by the inlet, Jerry Dixon with the St. Augustine Port, Waterway, and Beach District said, "The inlet has deteriorated drastically over the last 5 years."
"Something's going on," Bill O'Neill said. He fishes on the bridge over the Matanzas Inlet. He noticed the sand building up in the inlet too.
One of the sandbars just East of the bridge has grown so much that some people call it "the island." It is visible even during high tide.
"I was here a month ago and I didn't see much of it. All of a sudden it started piling up," O'Neill said.
Wildlife officers said boating can be challenging around the inlet. Officers have had to rescue boaters whose boats have grounded on the shoals or sand deposits.
Steve Zukowsky with the Florida Fish and Water Conservation Commission said, "For boaters, you could be -- for lack of a better word -- a pinball in a pinball machine with all the shoals out there."
Authorities said sand eventually started encroaching into the inlet in 2008 when Tropical Storm Fay breached some beach dunes to the South, sending sand into the nearby Summer Haven River. Now, parts of that river are covered in sand. Docks that used to sit on the river now sit on white beach sand.
New information this week may mean change is on the way. According to Linda Ginn of Summer Haven, the Florida legislature has just designated $400,000 to restore the Summer Haven River and remove the sand. Many people in the area believe that may help the Matanzas Inlet.
"We're hoping there may be a natural dredging affect when the Summer Haven River is opened up and water flow is increased," Zukowsky said.
For now, officials said there is no plan for dredging the Matanzas Inlet, because it is a natural inlet.
That means people who use the inlet must be careful.
"You have to really know this area," O'Neill said. "Because it's shallow and the sand is always changing."
Zukowsky said if you go through the Matanzas Inlet in a boat, make sure to do a few things. Go when the weather is good, meaning high tide and calm seas. Wear a life jacket. Go with a person who has extensive local knowledge of the waterway. And, use the backtrack feature on your GPS, so if you get stuck, you can go back the way you came.