St. Johns County School Board passes tax hike | News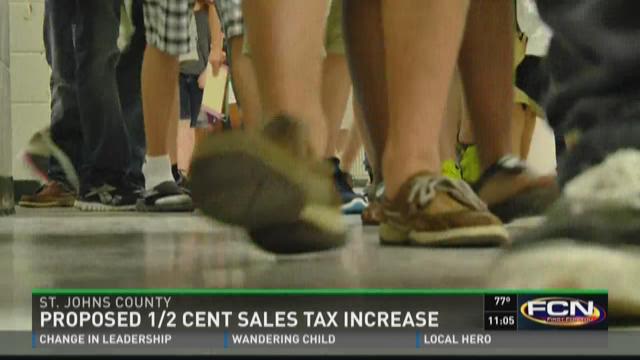 ST. AUGUSTINE, Fla -- St. Johns County is one of fastest growing counties in Florida and hundreds of families are moving there because of the public schools.
On Tuesday, the St. Johns County School Board unanimously passed a measure to support sending a half cent sales tax increase to build more schools before the county commission.
"We specifically moved back to St. Johns County for the schools," said Kristin Thomas.
Thomas grew up in St. Augustine and now has children. Like others, she moved to St. Johns County from out of state so that her children can attend top rated schools.
But all of that growth has many students learning in portable classrooms.
"It shocks me to a degree," Thomas said. "However, it does not shock me a lot because of the growth. We live in a desirable place."
Just last year the school district added about 1,600 new students. School board members say that means they are in need of two new schools, but they can scarcely afford to build them without raising taxes.
Peter Royal recently moved to St. Augustine and doesn't agree with raising taxes.
"If I have an itch, I need to be the one that scratches it," Royal said. "I don't want you to scratch it, I don't ask you to scratch it. The same thing goes with building a new neighborhood -- they should be the one to pay for it in impact fees and should be significant enough to cover the cost."
The school board chair says half a cent increase would bring in an extra $13 million a year for 10 years.
Thomas is in favor of the tax increase and is confident that voters will put education first.
"We have a very compassionate community in education and our parents and voters make up that community and they value our children. I am confident that it will pass," said Thomas.
If the county commission approves the resolution, voters will decide at the polls on November 3.